Welcome!
Total Estate Liquidation is a multi-service liquidation company providing Estate Sales, Auction House Placement, eBay listings, Buyout services, consignments services, donation and hauling.
We understand the difficulties that may be inherent in liquidating one's estate, and we make every effort to assist you every step of the way. We truly respect your individual situation, your estate and the items within it. We will treat your personal property with the utmost care. Our network of professional expertise combined with genuine sincerity and knowledge, gives you the best in estate liquidation services.
Why An Estate Sale?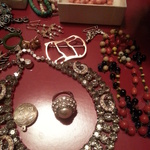 You may be too busy or burdened to wish to liquidate your estate. It is often easier, faster and less painful to have professionals sell your estate property than to do so yourself. Or, you may be an Executor and decide it is the best interests of the beneficiaries to use an outside agent such as ourselves to liquidate assets.